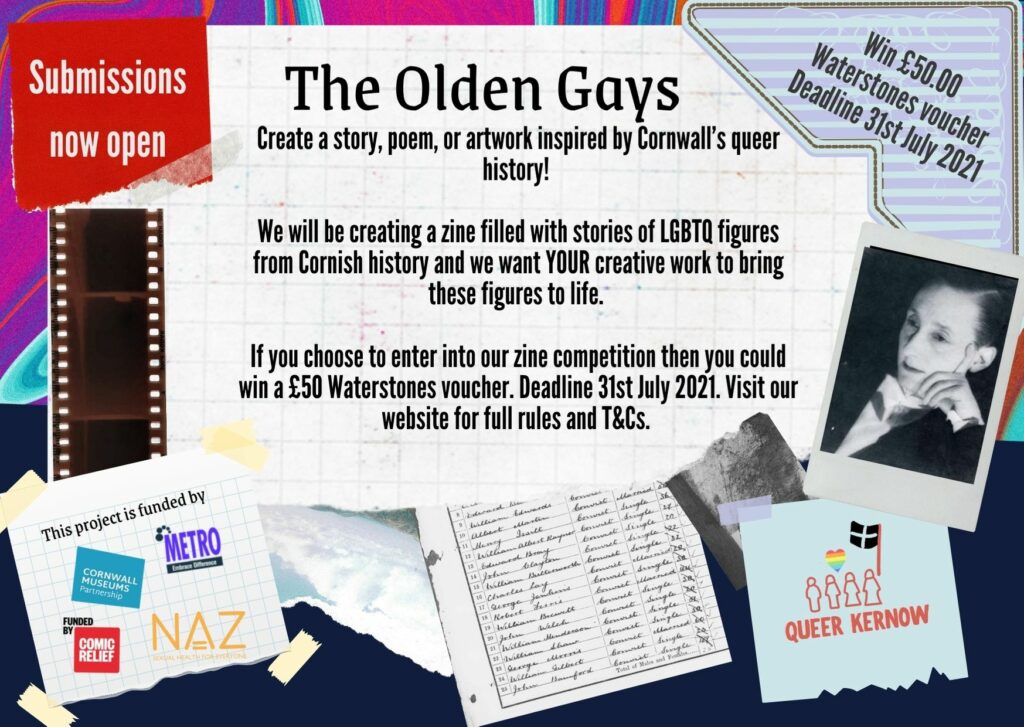 Queer Kernow are creating a zine filled with stories of LGBTQ figures from Cornish history and we want YOUR artwork/poem/story to bring these figures to life. Visit our Map or Museum Blog for inspiration!
Our wish is for this Zine to be created and led by the community. We want to celebrate and raise the profile of Queer Cornish History.
In August the finished Zine will be printed. Copies will be sent to secondary schools in Cornwall, also they will be available for free at Cornwall Pride 2021.
We want you to get really creative with your ideas, so they don't necessarily need to be portraits or stories about these figures – instead, your work could be inspired by that period in history, or their character, situation, or lifestyle, or you could even use the Cornish landscape as inspiration. We're open to all ideas!
The winning entries will be compiled into a scrapbook-style zine and all winners will receive a copy of the zine and a £50 Waterstones voucher.
HOW TO ENTER:
We would love to see what you create! You can share your artwork on social media using the hashtag #queerkernow, email us at hello@queerkernow.co.uk, or send physical artwork to our office at: Queer Kernow CIC, Room 17, Richmond House, 37 Edward Street, Truro, TR1 3AJ.
We want to make sure that everyone is able to take part in this competition, so we have a limited number of art packs available. Please let us know if you would like to receive one.
The rules for the Zine Competition are as follows:
The competition is open to all ages, but applicants under 18 must get permission to enter from a responsible adult.
You can enter work anonymously if you like, but if you want to be eligible for the prize, you must provide Queer Kernow with some contact information.
Your creative work can be in any form and any size.
Anyone can share their work with us using the hashtag #queerkernow, emailing us at hello@queerkernow.co.uk, or by sending us the physical copy at Queer Kernow CIC, Room 17, Richmond House, 37 Edward Street, Truro, TR1 3AJ, but if you want your work to also be considered for the competition, then you MUST state this when sharing the work.
If you are chosen as a winner, however, we require the original creative work throughout the production of the zine. This is to ensure we produce the highest quality copy that we can. We are happy to help with postage fees if needbe. 
Deadline for entries is 31st July 2021 at 11:59pm. 
Queer Kernow CIC reserves the right to refuse entry or to refuse to award the prize to anyone in breach of the Rules or the Terms and Conditions or the spirit of the Rules or the Terms and Conditions.
Terms and Conditions:
By submitting an entry (following the information outlined above), you agree to be legally bound by the Rules and these Terms and Conditions.
Queer Kernow must receive entries by 11:59pm on 31st July 2021. Any entry which is late, incomplete, or inappropriate will be deemed invalid at the discretion of Queer Kernow.
Queer Kernow accepts no responsibility for damaged or lost entries. In addition, Queer Kernow CIC (including its subsidiaries, agents, or distributors) shall not be liable for any direct, indirect, or consequential loss or damage or for any costs, claims, or demands of any nature whatsoever arising directly or indirectly out of the use of your entry or any part thereof.
Any entry must be your original work and it must not infringe the rights of third parties including copyright, trade mark, trade secrets, privacy, publicity, personal or proprietary rights.
Your work will be assessed by a panel of four judges who will assess the work based on the following criteria 1) suitability for the zine, 2) historical accuracy, 3) creativity, 4) quality of the work. The judges' decisions shall be final. No correspondence regarding the results will be entered into.
The creator of any work selected to be printed in the zine is eligible for a prize, and will be notified by Queer Kernow CIC within 21 days of the closing date if their work has been chosen. The prize is a copy of the zine and a £50 Waterstones voucher. The voucher will be sent to the winners by post within 28 days of Queer Kernow CIC informing the entrant of their success, and the zine within 28 days of its production. If, for whatever reason, the advertised prize is no longer available, winning entries will receive a prize of equal value. Anonymous entries are eligible for the prize if appropriate contact details are provided. 
Winners' names will be published on the Queer Kernow website and in the Queer Kernow zine (and potentially in other media) unless the applicant states that they wish to remain anonymous.
Full copyright title shall be retained by the creator of any entry. By submitting any entry to Queer Kernow CIC (including any text, photographs, graphics, video or audio) you agree to grant Queer Kernow CIC a perpetual, royalty-free, non-exclusive, sub-licensable right and worldwide license to use, reproduce, modify, adapt, publish, translate, create derivative works from, distribute, perform, display and exercise all publicity rights with respect to your entry, and/or to incorporate your entry in other works, in any media now known or later developed for the full term of any rights that may exist in your entry, and in accordance with privacy restrictions set out in the Queer Kernow Privacy Policy (as stated on our website). 
By submitting an entry, you agree Queer Kernow CIC may use the material for any purpose and in any way it chooses, including, but not limited to marketing, publicity, advertising and presentations.
We require the original copy of any creative work chosen for the zine throughout its production, and the work will be accessioned into Queer Kernow's collections unless otherwise arranged.
You agree to indemnify Queer Kernow CIC (and its subsidiaries) against any claim from any third party for any breach of the Rules or these Terms and Conditions.
Queer Kernow CIC reserves the right to update the Rules and these Terms and Conditions from time to time and any updated version will be effective as soon as it is published on queerkernow.co.uk
Queer Kernow CIC takes your privacy very seriously; we will only use your personal information in accordance with the terms of these Terms and Conditions and the Queer Kernow CIC Privacy Policy. By submitting an entry, you confirm that you have read and agree to the terms of our Privacy Policy. Any personal data submitted will be held securely and in accordance with GDPR. Personal data supplied may be passed on to third party suppliers only insofar as required for fulfilment/delivery/arrangement of the prize. 
This competition is governed by English law and English Courts have exclusive jurisdiction.