The Outback Newsletter covered many areas of activism. Each edition offers an invaluable glimpse into what issues were important to lesbians in Cornwall at the time: from the 'Reclaiming The Night' march, which was held in response to the Yorkshire Ripper attacks, to the repealing of Section 28 (a series of laws across Britain which prohibited the "promotion of homosexuality" by local authorities). They were also passionate about issues closer to home and advocated for environmental conservation and preservation in Cornwall.
Climate Change
Throughout the newletter's twelve year run, they frequently reported on and worked with 'The Women's Land Trust' (WLT), who owned two acres of Cornish countrywide near Sacreed in West Penwith. Through their bi-monthly meetups, they worked to create a place that would be held in trust to benefit women and nature simultaneously — planting over one thousand trees, conserving historic hedging, and establishing a wild pond and sensory garden. The site was also used for events such as workshops, camping, car boot sales, art lessons, fundraising fetes, and walks.
Politics and Equal Rights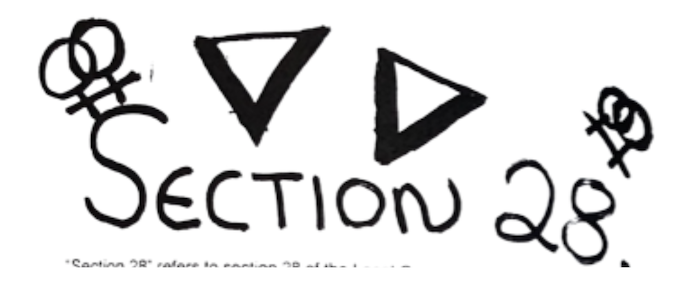 Section 28 of the Local Government Act 1988, which was in effect from 1988 to 2003, banned local authorities and schools in Britain from 'promoting homosexuality'. Section 28 was a serious threat to LGBTQ+ lives across the country, and updates on the fight to repeal it were a frequent feature in the 'news' section of Outback. Interviews with a wide range of people, from educators to politicians, graced Outback's pages, as well as news on the seemingly unending legal battle to have Section 28 overturned. You really get a sense of how hard-won this victory was for the LGBTQ+ community — there are numerous examples of buses and lift shares being organised to attend London protests against Section 28. In addition to national rallies, local boycotts and protests were often organised in Cornwall. One notable example of this is the reaction to a 'Trago Mills' advert in the late 90's, which mentioned 'castration for gay men'. People within the community and beyond boycotted the chain for their comments, and a demonstration was held outside the Falmouth branch in 1997.
Another area of activism featured in Outback was healthcare access for the LGBTQ community. Especially in earlier issues of Outback, the impact of the HIV/AIDS crisis on the Cornish community are clearly evident. There were advertisements for benefit evenings in support of local charities, obituaries of men who lost their lives, and warnings over safe sex. In later editions of Outback, you can often find adverts and editorials calling for volunteers and responses to NHS surveys — the first signs of mainstream medical institutions finally establishing contact with the LGBTQ+ community.

Outback was a voice, not only for LGBTQ+ rights, but women's rights, education rights, reproductive rights, climate rights. The community behind the newsletter was political to its core. Outback even interviewed hopeful MP candidates in April 1997, recognizing the importance of the 'pink vote'.